Please
Contact Us
if you are interested in any of these services.
Hair Removal
-IPL-
IPulse is a new type of hair removal technology which utilises light to disable the cells within the hair follicle and stop the hairs from growing back.
IPulse also successfully treats thread veins, acne, fine lines and wrinkles, pigmentation and can revitalise tired and ageing skin.

* Please consult your therapist for more information.


- WAXING - "Lycon wax is used for all facial waxing. Up to 70% less painful than traditional waxing methods"

Lip wax €9
Chin wax €9
lip and chin wax €16
Eyebrow wax €9.50
Half leg wax €21
Half leg and bikini €30
¾ leg wax €25
Full leg and bikini €35
Upper leg and bikini €28
Bikini wax €15
Underarm wax €14
Arm wax €18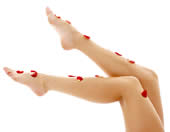 - SPECIALISED WAXING - "Lycon wax is used for all specialised waxing. Up to 70% less painful that traditional waxing methods"

Californian wax €25
Brazilian wax €40
Hollywood wax €50
- ELECTROLYSIS - GOLD STERILE DISPOSABLE NEEDLES USED ON EACH CLIENT

5 mins €14 minimum charge
10 mins €18
15 mins €22
20 mins €27
-MALE WAXING- Chest wax €25
Back wax €25
Shoulders €18